How to prepare I-9
1
Open up the form's template
Filling in I-9 online and mailing it electronically can help you save plenty of time and effort. Use our effective editor to read, fill in, and send the sample.
Now you may complete all parts of the form and sign the file digitally. Double-check if information presented is precise and error-free.
As soon as you click the DONE button, the finished form will be saved, and you could deliver it by email or print it out and send it at any convenient time.
What Is Blank Fillable I9?
Employment Eligibility Verification, better known as the I-9, is a document provided by U.S. Citizenship and Immigration Services.
A good reason for filling out this sample is to see worker's documents and finally make sure that the person has permission to work in the USA.
The list of required docs is included on the last page. If you use volunteers or contractual services, you don't need to complete it.
If the employee has problems with understanding English, it's better to use the services of a translator or preparer and indicate this in the appropriate box.
There are various versions of this sample accessible on the Internet and many of them are not valid anymore. Pay no attention to the date in the right top corner. You should find the revision date located in the bottom left-hand corner and check it.
This document was prepared by hand for many years (since its introduction in 1987) and in 2004, people could finally fill it electronically. And we have made the completion of a new I-9 form 2022 even more convenient.
Check out our ultimate online solution for editing PDFs:
Any changes are available from any device with a connection to the Internet: desktops, mobile phones or tablets.
Use the Wizard tool for additional explanations.
Enter text in fillable fields and correct them if needed.
Press Tab or Enter on your keyboard to go fill each of the needed areas.
Add additional textual content using the Text tool.
Certify the doc using the Sign tool.
Add check marks by simply clicking in special places or placing additional ones with our tools.
Who Completes the Form I-9?
The main purpose of this document is the legalness of employment verification. Every person who works in the United States must fill out this blank together with an employer. An employee fills in Section 1 on the first day of hiring and a company completes Section 2 during the first three days of the employee's work.
Template Completion Frequency
This document must be completed once when hiring US citizens or people who have permanent permission for living in the USA, excluding cases that occur after more than a year break of employment. Workers from other countries should fill in the form every time their documents expire and are renewed.
Penalties for Noncompliance
You should not underethe importance of the proper completion of this doc. The I-9 noncompliance provides penalties. A person who gives false information must pay fines or can be imprisoned. Hiring an unauthorized worker can be fined from $250 to $5,500 per employee.
How to Complete the 2022 I-9 Form Online
Click the green Get button to open it in our ultimate PDF editor.
Add information to special fillable fields.
Use the Wizard tool or Help section if you're having difficulties with completion.
Navigate pressing the Tab or Enter button, so you don't miss any field in the i-9 2020.
Check the correctness of your data.
Sign the form to certify it.
In case of any problems, contact our Customer support.
When everything is complete, click Done to download, send or create a hard copy with this template.
What people say about us
youaintno
Give it a try! pdfFiller is such a good thing which helped me a lot manage my work! the support team is great & kind and answers within 40 minutes (you need to check the inbox on the homepage, noch on your email account ) Contract is easy to change.
Alan C
Really good, quick and easy to use.
BRAWTA VACATIONS
Easy to work with Easy to work with
CLEO JACKSON JR.
user friendly
Decrease the possibility of errors preparing forms digitally
Video instructions and help with filling out and completing I-9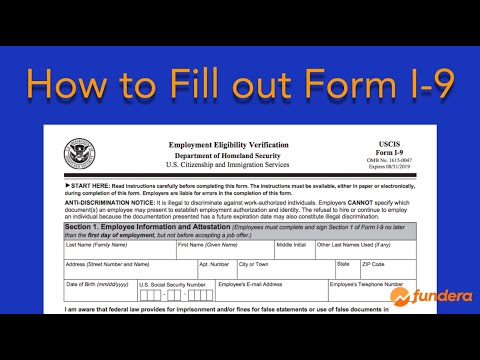 Instructions and Help about I-9
How to Fill Out Form I-9 Hi everyone, I'm Priyanka Prakash, Senior Staff Writer at Fund era, and today I'm going to walk you through how to fill out Form I-9: Employment Eligibility Verification, which can be downloaded from USCIS.gov. This form must be completed for all paid employees to verify their work eligibility and work status in the United States. Employers and employees share in the completion of the form. Let's start with section one, which should be filled out by the employee their first day on the job. Employers should pr the form to the employee to fill out Section 1, along with instructions for the forum which are available at USCIS.gov. Today, I'm going to play the part of both employee and employer. Starting as the employee, I'm going to fill out Section 1 with my name, address, and date of birth. Entering your social security number is optional unless the employer participates in E-verify. If the employer participates in E-verify, and you have a social security number, you must pr that in Section 1. If you don't have a social security number, or haven't received one yet, you should leave this field blank. Email address and phone number are optional, though the USCIS may contact you if there's a mismatch between the information provided in this form and the information that's in other government records. If you choose not to premier address or phone number, you cannot leave those fields blank. You would have to type in N/A if you don't want to pr that information.
Common Mistakes
Utilizing the wrong Social Security Number
Forgetting to sign your return
Mailing your blank to the mistaken address
Failure to prepare a copy of certified return
Benefit from
Legally-binding eSignature
Turn your forms into enforceable files by creating and applying your signature with one click.
Shareable records
Send I-9 via link or email, or submit it right to IPS if needed.
Secure workflow
Protect your PDFs with our service that fits business-standard encryption and security, including ESIGN Act and GDPR.
Cloud support
Get access to your information anytime, anywhere by linking your cloud, regardless of the system you're on.
People also search for I-9
i-9 PDF
i-9 form download
i 9 online
complete i 9 online
employee i 9
i 9 list a
i 9 tax form
FAQ - I-9
What is the purpose of I-9 ?
The purpose of the I-9 system is to certify employees for visa purposes. As part of this process, your I-9 is sent out to various agencies by Customs and Border Protection (CBP×. This is done to verify the accuracy of your Social Security number, as well as other information regarding your identity. Your I-9 is sent out in the form of a letter with your name on the outside, as well as the Social Security number you assigned. Your I-9 details must not be altered, in any way, ever. Any requests for alterations do not count and must be denied immediately. Failure to comply with this policy will result in administrative consequences, such as an investigation and×or criminal charges. What is the purpose of a Social Security number ? A Social Security number (SSN) is an identification number and a means of personal identification for individuals residing in the United States. A SSN is not a permanent identification number, and does not identify you as a United States citizen. Instead, the SSN serves as a means of identification for purposes of a "social security tax," which is the amount of tax collected by the United States Department of Labor for all Americans, regardless of income. The most common source of income for Social Security is Social Security and Medicare (SSI×. Who has a Social Security number ? Any individual who pays Social Security and Medicare tax as well as income tax for any of the 10 federal tax years up to 2012, is required to provide a Social Security Number (SSN×. Those individuals must provide their names, dates of birth, and SSN numbers to Social Security when filing their taxes and requesting an I-9 indicating they are living and working in the United States. Individuals will no longer need to provide this information upon being granted employment by an employer, but they must continue to provide this information for a period of time (generally from 10 years from when a Social Security number is first collected×. In order to determine SSN, an individual may apply for a Federal employee Identification Number (FEIN×. What are the reasons for someone to have a Social Security number ? Generally, an individual with a Social Security number is subject to the same laws as the general population, though some may have exceptions. This includes obtaining and maintaining proper identification to legally enter the United States. Additionally, a person whose SSN is available in a United States Department of State system may be able to access certain benefits, such as obtaining employment.
Who should complete I-9 ?
The I-9 form is designed to provide employers with background information relating to the applicant's employment history. In addition to the I-9 form applicants have to provide a social security number if they are applying for non-immigrant visas. Why is the I-9 form necessary ? The I-9 form helps employers in many respects to get an overview of the employment history of the applicant. The I-9 form also allows immigration authorities to obtain a better idea of the reasons for the applicant's non-immigration in the future. The information on the I-9 form has helped authorities in their work for years. Even now, many immigration professionals have signed the I-9 form because they understand the importance of the form and the significance it plays for the process. A simple yes or no answer is completely up to the applicant while an I-9 form answers every question and provides all needed information to an immigration authorities in order to assist in the decision of whether to issue a visa or not. Are the results on the the following : Completely accurate Complete? Yes, accurate Correct? Yes, correct The I-9 form consists of four sections: a question with answers, a statement, questions and a signature. The following questions are included in the I-9 form: "Have you ever received a wage or salary from an agricultural employer that does not exceed the amounts paid in any period of 6 consecutive months?" a follow-up on why is the I-9 so important for the worker ? "Has your employer ever refused to pay you a wage or salary for any reason?" The second part of the I-9 is a statement stating the nature and dates of employment. The following questions in the I-9 must not be answered in any other way than yes, no or indeterminate. "Have you ever been convicted in any court of a felony?" "Do you believe your employer has ever taken a non-citizen's life?" "Do you have any knowledge about the use of forced labor by your employer?" "Has your employer ever stolen, destroyed or falsified your documents?" "Has your employer used any means to compel you to work or to cause you to work in such a way that you could not complain or complain because in doing so your employer has injured, damaged or interfered in any way with your health or health's welfare?" The I-9 form is very important for many reasons: The employer has to.
When do I need to complete I-9 ?
This depends on your employer. The IRS publishes a list of situations where you are required to complete I-9. For details on those situations, see your specific employer's requirements. In any situation where the employer asks you to complete an I-9 form, make sure you complete all the information that is asked. Why are some employees required to complete the I-9? You should be required to complete I-9 because it is a mandatory report from an employer. The government provides the information it contains for the benefit of the employer, the employee, employers, employees and others. You should be asked to complete I-9 only if you worked as a representative for the employer. In some cases, employers require employees to send the employer certain documents with I-9 applications. These documents might include the employee's: annual income tax return; W-2 or 1099 form; education history; job history; information from another business or professional; and Information on your home life and family circumstances. How do I know if I did comply with the I-9 instructions? The first step to determining if a request for I-9 was made correctly is to verify your identity. You will be asked to provide the first and last name's) of the employer or representative making the I-9 request and the date's) of employment. If you have no history as an employee of that employer or the I-9 request is made as part of your job application, you should be asked to provide only your first name and the last name's) of a current employer. Another key component to determine your identity is to look carefully at the employer's request for information, and verify with the employer that you have an I-9 form in the mail for that employer. Make sure the employer's request matches the information in the information provided to you. If it does not, the request is incorrect. Are there any exceptions? Yes. In certain situations — including but not limited to fraud and willful misconduct, and when the employer is an H-1B or E-1 visa — the employer is authorized to waive the I-9 forms. What information will I have to provide on the I-9 form? Once you complete and submit the I-9 form, you should receive a letter from your I-9 authority advising you on what you are.
Can I create my own I-9 ?
A person can apply to the USCIS or to Social Security Administration (SSA×. The I-9 form is only a short questionnaire that is designed to gather information about you: The employer for the job you will work; Your current address; Where you will live. Where will you live? The USCIS may ask: Are you domiciled in the United States Are you in the United States for 12 months prior to requesting a visa If you are moving from within the United States, the agency will also want to know: Who will be your employer during your stay there You should write your employer and any other person you will be living with in your letter I have already applied for a I-9 with SSA The SSA will not send you a letter, but instead send you an I-9 with instructions on how to fill it out. When you get the letter, fill it out and bring it with you to a USCIS office to submit. Do this by mail, if appropriate, or in person at a USCIS office. You may also have to pay USCIS fees, such as 150 to 350. What to submit with your I-9 request If you are submitting an I-9, you should submit: Written Form I-9 with your current address and employer I-766 (Form I-94, Application for Advance Parole to Leave the United States) An I-94 Card or I-94 Waiver (Form I-131) Proof that you completed I-94 at a USCIS office OR proof that you have the original of your I-94 For more information about filing I-9 applications in person or using a mail order service, visit USCIS's Website. If you are having trouble completing it, or it is not being accepted, write, "Failed" or "Not Accepted" on the top line (left-hand side) of the form. USCIS website: If you are having trouble completing a form, or you need to update your information (notify us about your information and get email alerts×, fill out the form. Filing an I-9 online? If you are having trouble completing a form, contact a USCIS agent instead. The agent can help you complete the form and.
What should I do with I-9 when it's complete?
You are not required to file I-9 for certain individuals. Please speak with an immigration lawyer to determine your options. You may be able to avoid the reporting or withholding of your employer's information by claiming an exemption or by filing I-9. Is there any other time when a person may not receive an I-9 report? I-9 is required only when an individual is employed or seeking employment. If you are not employed or not seeking employment, you may not be required to obtain an I-9. This is an exception to the general rule. Please speak with an immigration lawyer. Where do I find an immigration lawyer? It depends. Your best resource is a state licensed immigration attorney. If your situation is not listed, visit our list of attorneys. Related resources The following is a list of links to websites that may provide additional information about I-9 and the USCIS process. We recommend you review those websites that are referenced to ensure the contents are relevant to your situation. For any queries you may have, please contact the immigration law information providers identified in the list. Please ensure the information on this page is kept up to date. There have been changes since the first publication and our Lister cannot always keep up with those changes. Please contact us if you cannot find the information you need.
How do I get my I-9 ?
There are several ways to get a I-9. You can submit your free application to the Citizenship and Immigration Service at You can also go to the main Citizenship and Immigration Service (USCIS) website at for your application to be processed. You can obtain information about the status of your application by contacting the USCIS office you are seeking to immigrate to or receive a waiver for. Can I immigrate if I have already lived outside the U Yes! If you are a native born citizen, you may file your I-130 application for permanent resident status before coming to the to apply for admission. If you are applying based on an employment-based visa, your I-130 application will be processed when you enter the and will not be processed until after you have left the Once you enter the United States, you will be able to check the status of your I-130 application online under "How do I get my application." If you are also applying for asylum (bogus refugees×, the USCIS can assist you with filing your I-130 application by providing you with information about the asylum procedures, such as the asylum determination letter, and by forwarding you a Notice of Intent to Defer Action to Show Cause for Inadmissibility (NII-1233×. What I do to prepare? What documents do I need? You need the following to apply for a temporary I-129 or I-485×b). All the following documents must be original and dated within two years after the date of most recent entry into the must take the following documents with you when: attain admission to the United States or request a waiver for your admission on a waiver×inference of good moral character enter a transit country for temporary admission only enter a country for the purpose of seeking employment arrive anywhere in the world that requires special permission to enter If you are coming to the on a business or employment-based visa and wish to have your name removed from the USCIS computer record, this document is called an F-5EC, Document of Release or Departure from Employment. This is similar to the Visa Waiver Program.
What documents do I need to attach to my I-9 ?
If you have any documents that are related to the work that you are submitting for I-9 consideration of your foreign activity, you must list them here. Please do not list all the documents you have and be sure to list the original, not just scanned, copies. Please do this online or through a secure fax. In addition, the I-9 must be signed by an authorized representative of the agency that is conducting the I-9, which is why you must have the original document by you for submission to the USCIS. There are three types of documents that you must attach to a completed I-9: Completed Form I-9 (Form I-9-G) : The form includes all your information about your immigrant employment. The form includes all your information about your immigrant employment. I-9 Affidavit : This form is required when you change employers or when your employer goes out of business. This form is required when you change employers or when your employer goes out of business. Change of Address Form: A copy of the Change of Address form is needed whenever the employer's address changes from where we submitted your I-9. You can find more information about these forms by reading the Instructions for Forms I-9, I-9-G (Immigrant Visa Application) and I-9-A (Application for Change of Status×. Do I need an attorney to file Form I-9 in the Forms I-9 are submitted through the Department of State Bureau of Consular Affairs and should be done in person or by postal service. I-9A does not need to be done in person, but the Form I-9 and I-9A are sent, together with the Form DS-260, to the DHS Office of Global Migration and is processed by the Office of Legal Affairs with a stamp of the Department of State. When filing a Form I-9 or a Form I-9-G on an overseas site it must be done through an authorized representative of the Government ( a diplomat×, who will sign the form. What paperwork must I submit if I am going to work outside the Foreign nationals who plan to work outside the , including any defendants, need to submit the following when they apply for immigration.
What are the different types of I-9 ?
What are the requirements for I10? How can I prepare my I-9 to receive an H-1B visa ? What else is an H-1B worker able to do in the What other visa programs is this H-1B worker eligible for? What does an H-1B worker pay in taxes? H-1B workers may also be eligible for the following special eligibility. However, the H-1B work visa may be canceled even when an employee is inadmissible for any of the following: Mental illness Drug or alcohol abuse Pregnancy Suffering from a physical disability Suffering from a gender disability What other work visas may I work? There are other types of visa programs that foreign workers may be able to qualify for in the , such as the L-1 and P-1 visas. This website is only intended as a reference. It is the employer's responsibility to apply for H-1B visas in accordance with immigration laws and rules.
How many people fill out I-9 each year?
The Citizenship and Immigration Services (USCIS) provides statistics at different times. In 2010, USCIS reported that between 4 and 5 million immigrants were in the United States legally with provisional green card status. A study by the nonpartisan Government Accountability Office showed that more than 300,000 illegal aliens had acquired provisional green cards. In 2011, the State Department reported that there were "only" a million immigrants in the United States with provisional green cards. There are currently more than 11 million undocumented migrants in the United States, according to DHS statistics. So why focus on the number of green cards, instead of how many have been given by USCIS for entry into the country? Here are a few reasons. The USCIS reports that the vast majority of provisional green card applications are approved: 96 percent in 2008 to 2009, and a high of percent in 2010. And it's a huge percentage, considering the number of green cards issued is quite small in the first place: 7,000 in fiscal year 2011, according to the State Department. Green card beneficiaries may have other legal status, too, such as permanent residency or citizenship. According to the Pew Hispanic Center, almost half ( percent) of these immigrants also had a work visa. By itself, granting some immigrants full legal status without having to make an application would save quite a bit of money in administration of the green card program. Advertisement In addition, green cards represent a tiny fraction of the number of visas issued each year. The State Department reports that in fiscal year 2010, a million foreigners had visas that qualified them for entry into the United States; of those, a whopping percent received green cards as well. The Immigration and Nationality Act allows a variety of categories of temporary visas for workers or students so that workers, students, visitors, and other temporary visitors can obtain permanent residence. In 2010, that represented the largest category of visa issued: a million. In 2011, the latest year for which statistics are available, a million people had the "visa lottery" as part of their immigration process. If you can't find any money saved just by having a relatively small number of green cards applied for by those with other legal status, don't expect more money to be saved by having fewer than 100 people with full legal status apply for a green card.
Is there a due date for I-9 ?
Or are you just going to allow people to work for you until you approve a "yes" or "no". And can they stay on at a new job in India if that job pays more and is better? How is it possible to prove that a person worked in India for a year, then returned to America? Does India have any requirements to prove that somebody used to live there? I am quite sure that some of the people who can apply under such scheme, are just going to stay at the US embassy and work there with impunity for several years. What the heck am I supposed to do with all these questions. Please help me understand, from where I got to be a contractor, with all these questions. Also, I am a very intelligent educated man. How will I be treated in India? I am from the USA. Can I really become a contractor and work in India? Is it illegal? Do I have any rights? I don't, right? There is a lot of questions, which don't even start with questions. Please help me understand, as my understanding could be totally wrong Sukhdeep.